PHP Friendship Clubs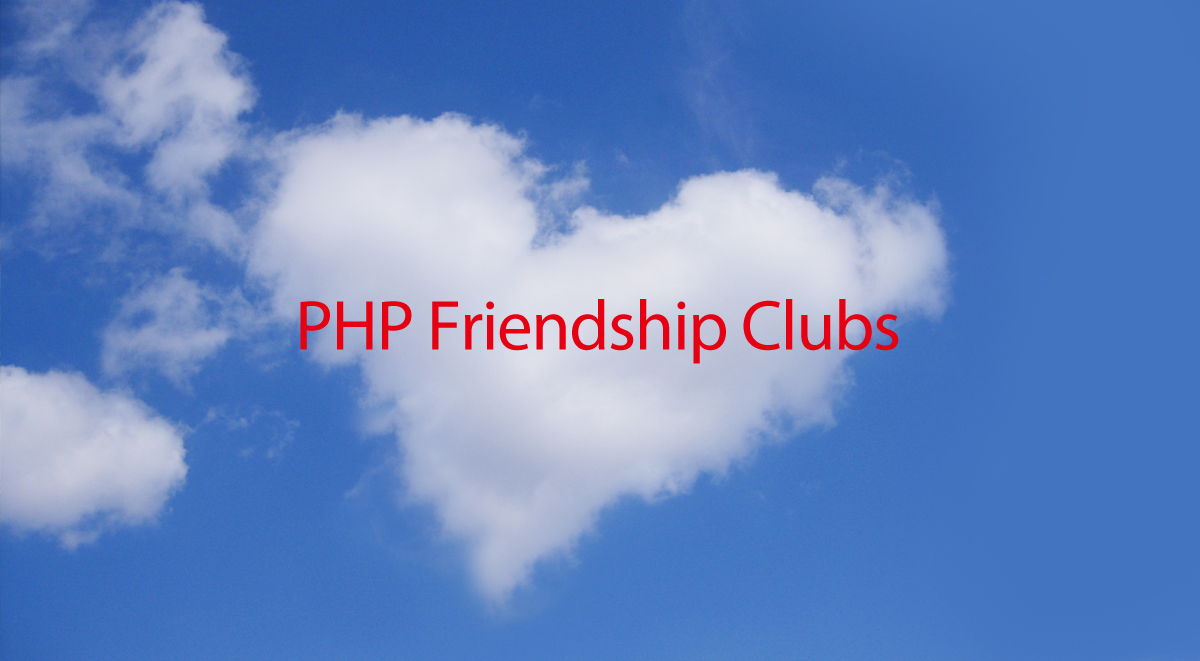 1) The Meaning Behind "PHP"
PHP stands for "Peace and Happiness through Prosperity," and denotes the wish to "bring peace and happiness to humanity through a balanced abundance between the material and spiritual." The monthly magazine PHP, which has continued to be published to this day since April 1947, is a long-established magazine through which wisdom for achieving PHP is collected and distributed.
Konosuke Matsushita : Advocate of the PHP Movement
The PHP Institute was established in 1946, the year immediately following Japan's defeat in the Second World War when food was scarce and the country was in an extreme state of confusion and poverty. Konosuke Matsushita, feeling indignation with the situation, strongly questioned whether "this was the way humans were intended to live," and went on to seek enlightenment from various people. Arriving at the belief that "man, as the lord of creation, is by nature able to live a materially and spiritually abundant life of peace and happiness," Matsushita launched the PHP movement in order to discover measures to achieve this state.
---
2) We Welcome You to Join the PHP Friendship Clubs
It's a place to learn and interact with others under the motto of a sunao(open)mind.
Losing Sight of Kindness and Compassion
These days it seems as if there are more unpleasant events cropping up around us than pleasant ones. Everywhere we go, we are confronted with self-centered behavior and it seems that the presence of compassion and sincerity are gradually fading. As you are aware, there is a constant barrage of scandals coming from even the realms of politics and social activities.
People who are concerned about the situation fear that things cannot remain as they are, and that if nothing changes, we shall all be miserable and future will be dismal. As things stand at the moment, however, there appears to be no sign that the situation will improve.
The Exchange of Wisdom
We believe that it is important to not only complain about the situations that arise in our society, but to think in a positive manner about what needs to be done, voice proposals, and collectively devise measures. It is our belief that there is a need for each of us to become conscious of the fact that we are all members contributing to the support of society and should work towards exchanging wisdom, cooperating, and helping one another in order to build a better collaborative society.
Based on the wish to achieve such a society, the PHP Friendship Clubs are going beyond politics, religion, occupation, age and sex in thinking about life and society with a sunao (open) mind. For instance, the Clubs are a place of mutual enlightenment where people can come together to talk and think about the daily joys and concerns of life and about problems in one another's work or social life and to do something about such concerns and problems.
---
For Everyone's Happiness
Anyone is welcome to join the PHP Friendship Clubs. The members, who wish for their own happiness as well as the happiness of others as they endeavor to work together hand in hand, talk to and learn from one another with a humble attitude and generous heart. We believe that this humbleness, generosity, and forgiving attitude are generated from the act of cultivating and heightening a sunao (open) mind in one another. The root of all the destruction in today's society comes from the inability in each of us to keep a sunao (open) mind as well as our preoccupation with our own desires, and our own losses and gains.
Cultivating a Sunao (Open) Mind
The basic principles upon which we base the activities of the PHP Friendship Clubs are to cultivate a sunao (open) mind in one another and to promote the value of a sunao (open) mind throughout the world. The more promoted a sunao (open) mind is, the more we can understand the reality of a situation, and the more we will come to our own realizations of what needs to be done. We also believe that we will gain the ability to properly apply and implement this good judgment in our lives and in our communities. The PHP Friendship Clubs aim to promote this sunao (open) mind not only in individuals but also mutually among the members, and to bring happiness to one another through the creation of a bright and comfortable society.
Through the earnest act of mutual enlightenment, each individual will inevitably become a better person and the community will become a better place which will lead to a higher level of prosperity, peace and happiness in the world.
We await the active participation in the Clubs of those who are sincerely concerned about society and who wish to seriously consider the situation in our lives and communities.
---
3) The Activities of the Friendship Clubs
The activities of the PHP Friendship Clubs are fundamentally "a movement to obtain a sunao (open) mind." The sunao (open) mind proposed by the PHP Friendship Clubs is based on "a mind that is free of any preoccupations" and "a serene mind free of any self-interest." In other words, it is a mind that has the ability to properly see the actual state of things.
In an aim to "obtain a sunao (open) mind," the PHP Friendship Clubs have established "Our Philosophy" and "Five Oaths" to act as a common ground of understanding. As we work towards cultivating and heightening a sunao (open) mind in one another, we aim to achieve PHP (Peace and Happiness through Prosperity) through our development of our three activities based on "learning," "meeting and making friends," and "making social contributions."
Let's Work Towards Achieving a Sunao (Open) Mind
A sunao (open) mind will make you strong, honest and wise.
Our Creeds & Five Vows
Our Creeds
With a sunao (open) mind, let us learn from everyone.
With a sunao (open) mind, let us think and share our thoughts.
With a sunao (open) mind, let us go about all our activities.
Five Vows
Let us wholeheartedly cultivate sunao (open) mind.
Let us not be overly reliant on others, but be independent in thought and deed.
Let us be prompt, and always keep public and private matters separate.
Let us always keep our promises to one another.
Let us be kind, considerate of others, and forgiving of each other.
The Three Pillars of Our Activities
Achieving PHP (Peace and Happiness through Prosperity)